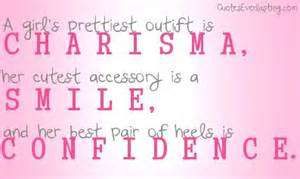 To be confident, you also need to be brave.  Last week I was at eWomenNetwork International business conference and expo.  The theme of the conference was all about being confident.  I did something for the first time in 5 years of being at the conference.  I spoke in front of 900 plus business women and men on the microphone, sharing something personal.  I have been growing my confidence and bravery for many years now.  Was I scared to stand up?  Yes.  Did I do it with my knees shaking and teeth chattering?  Yes.  I took a breath, looked over at a few friends I could see near by and went for it.
Confidence grows inch by inch, just like being brave.  Let's look at it this way.  Caring adults, grab your tween girl in your life, and take a look at this!
Have you ever wanted to try something new yet were scared?  Maybe your Mum suggested giving a try of a new sport or class after school?  Yet you're afraid to meet new kids?  Or you're worried what the other kids will say when you do meet them.
Perhaps though you REALLY want to try the activity.  Being a Wonder Girl is knowing that you're scared about something and doing it any way.  Growing your confidence and believing in yourself takes work, and practice.  Maybe you're reading this right now and there's a test coming up in school.  And maybe it's a subject you don't like.  Or it's a subject that is challenging to you.  Do your best to study for it.  Create a way you can remember stuff easy.
Think back to when you were in grade one or two.  Is there anything you did then that you don't do now?  Did you stop something that you liked to do because other kids were making fun of you?  Why not doing that something again?  Be brave feel your confidence rise and go for it!
Being brave also means trying something again when you failed at it for the first, second, or even third time.  Just keep trying until you get it completed or right!  Keep going with putting one foot in front of the other.  Every little step towards that something you want gets you closer to it, not further from it.  And doing nothing just gets you nowhere.
Someone told me once that it's confidence that makes a woman sexy.  This is so true!  Feeling confident enough to walk down the street with our heads high, feeling amazing and confident in our own skin.
Take a look at this video below by Demi Lovato, it's all about being confident.  What's wrong with that?  Nothing!!  Tell me, below, how will you grow your own confidence today?