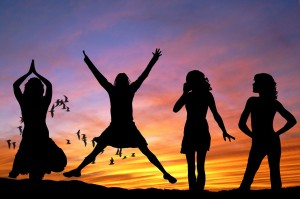 Caring adults, this is another message for both you and the tween/teen girl in your life.  Have a discussion about this, and figure out the plan of attack.  This will make sense as you read the blog this week.  This week let's discuss being bold more intimately.  Being bold is about finding your voice.  Choosing to stand up for you.  Speaking your mind even if you are scared to, yet know it's the right thing to do.
If you see something happening that isn't right what do you do?  Do you say nothing?  Do you tell a teacher/trusted adult?  Do you confront them?  Being a Wonder Girl who is bold means either confronting them (only and I repeat ONLY if it's safe to do so) or telling a trusted adult. 
Being bold also means speaking your truth to adults.  For example your teacher maybe asking for response from the class about a topic you are discussing.  Raise your hand and give your example/idea.  It can also mean speaking your truth to your parents or other trusted adults when something is wrong.
When you are bold you are also planning out the way you do things.  Being brave remember was more like feel the fear and do it anyway.  Being bold, is knowing what you want to accomplish, and moving ahead and creating steps to make it happen.  So for example, if you want to get your driver's licence what is the first step you need to do?  Get the learner's book would be the first step.  Read it, and talk with your caring adult about driving, and even asking questions on driving.  Becoming aware of your parents when driving is another idea, watch how they drive, and make a mental note in your head on what the do, compared to what is in the book.  When you are ready and old enough, go and take the learners test.  I know when I did mine, it took me 2 times to do my test.  In Ontario we were only allowed a certain number of mistakes on the test.  It is a written test we did.
Tell me below how you are going to be bold today!