Francavilla al Mare Persistence, how does that relate to the topic this month of 'get moving'?  Well, in one respect it does not.  And yet I believe it does as well.
http://drryanchristensen.com/info.php?a[]=buyviagra.tel On June 7, 2015 I had a dream come true.  And it took persistence and continual movement forward for it to come true.  The Children's Hospital of Eastern Ontario  (CHEO) had their annual telethon.  And I went back to the hospital to share some hope and inspiration.  As well as gift the hospital Neonate Intensive Care Unit (NICU) $3,216.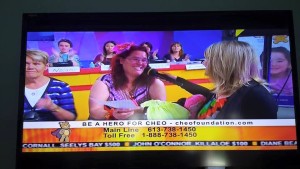 best place to buy modafinil reddit The reason why I went back to the hospital to give them money is that I was born 3 months early in 1976, and given 24hrs to live.  With persistence, movement and a team of doctors, nurses and specialists I am here today.
We had the opportunity to return to CHEO and the NICU.  My parents and I met some of the awesome nurses and doctors who now work with the tiny babies and their families at the hospital.  They have the quality of persistence to keep going to find out new ways to help the babies live and thrive.  They have also been developing new technologies to help both baby and Mum bond, and thrive.  One of the newer ideas is something called Kangaroo Care.    This is a technique that was not invented in 1976.
My Dad kept a journal of my time in the NICU.  There were entries of sadness, joy, and stress.  On occasion though there were entries in the journal that made me giggle after I read them.  One of them being that when my parents came to visit me, they noticed that I had little baby doll socks on my tiny hands. Apparently according to the doctors I was moving too much, and was taking my iv and other wires out!  I was had persistence even as a tiny baby to keep going no matter what.  And moving was a part of that!
Persistence to move forward, to keep going.
What will you do to keep moving your energy, your body and persist to overcome challenges?
If you want help to help your daughter find her own inner persistence, and strength to keep going no matter what click here!  And let us know how we here at Inch by Inch Empowerment can help YOU!