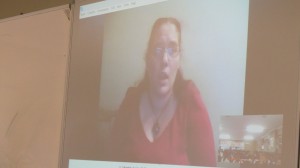 Back on March 5, 2014,  I had the pleasure and honour to speak to a group of girls in South Africa via Skype.  It was very early in the morning for me it was about 4:15am, and I was awake and buzzing with energy.
I was about to talk to a group of girls who were open and raw asking questions about dating violence.  And the questions they asked blew me away.  I've never been asked these type of questions.  The girls yearned to know so much knowledge.  And they yearned to discuss their questions.  Such as "How does a girl protect herself from being raped?"  Or "How does a girl heal after being raped?"  And also "If a girl is raped and becomes pregnant, should she keep the baby?"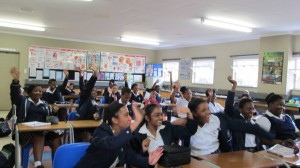 We talked openly and honestly about their questions, and the girls were amazing, they knew the answers from their own questions.  They loved the interaction with our discussion.  I am so proud and honoured to have been talking with them.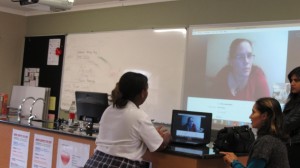 Find below the testimonials from the girls:
"I enjoyed the fact that Aime was open to talk about anything and that she answered our questions honestly."
"I learned:
Not to allow boys to control you
Not to allow the boy to make all the decisions
Not to stay when you start to feel a bit uncomfortable
Always be with friends or go on group dates"
"I had a lovely time when you talked to us.  I learnt a lot about the signs of a bad relationship.  It was my first time here and I was so glad that I had the privilege to know more about relationships so I'll know what to do in the future.  Thank you so much for making a difference in our lives."
"The Skype call was really inspiring and it taught me a lot of things eg. teaching me to be independent and to always say no if I don't agree with something.  It also added onto my knowledge."  ~ Innocentia Nene
"I learnt the signs of dating violence is that he will control you, control your money and what you wear but I think it really doesn't make sense because they should accept you instead of changing or controlling you."
"I thought the Skype session was very touching.  How Aime was able to get through what had been done to her.  I was inspired about how she was able to move on with the rest of her life and to tell other people about her story.  Her story was very sad but also made me aware of what could happen to a girl and makes me know what to do if it ever happens."  ~ Aphelele Ndlovu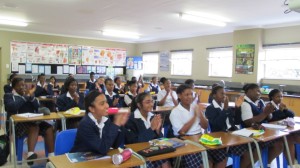 "I think the Skype session was very informative and hearing different views from different people was good.  Actually hearing someone who has gone through it talk about it actually puts more meaning into what she said rather than hearing a professor from university give his/her views.  I loved the Skype session and think it was very helpful in terms of gearing me up for the future."  ~ Asande
"The last Skype session with Aime was very informative about relationships and the things that you should be careful of and the things you should just avoid.  It was very nice to hear about her stories and I have learned how to handle a relationship even if it isn't one hundred percent, it will be better than if I didn't know."  ~  Matha Mnisi
"I learnt how to see if the person you are dating is violent or not.  I also learnt the person must accept who you are."  ~ Ayesha
"I learnt how to see a person who mistreats you and controls your life."  ~ Buhlebenkosi
"The session was very inspirational.  I learnt how to be an independent and empowered woman and how to act positive towards life."  ~ Sinethemba
"It was very interesting learning how men can control you in a relationship and abuse, not treating you in a way that you should be treated, and also being aware on your first date."  ~ Amahle
"I was really inspired by your speech and I learned how you should be careful of who you date and to always be aware of dangerous people."  ~ Laiya
"I really liked your talk.  I learnt many things that are happening in reality.  Your stories touched me and I will not forget them."  ~ Nokuthula
Thank you to Haseena Patel for asking me to speak to your girls.  I am humbled by the responses by your girls.  Your girls are so brave and amazing.  If anyone wants more information on her organization check out Leave No Girl Behind and engage with them, find out how you can be of service!
And if YOU want Inch by Inch Empowerment to come to your school/program to speak please contact us!  Click to our Contact Us page and put "Girls Talk" in the subject line!  We would be happy to be of service to YOU!